Bedrich Smetana´s Museum
The Museum of the Famous Composer Bedrich Smetana, the Father of Czech Music. The House where "My Fatherland" Was Composed.
Order Tour Code: CNE4
Tour availability:


Memorial of Bedrich Smetana
The Smetana Memorial is housed in the age-old gamekeeper's lodge in the village of Jabkenice not far from Mladá Boleslav, close to a large fenced game range surviving to this day with beautiful natural scenery. The lodge served as headquarters for the forestry office of the Thurn-Taxis princes who owned the dominion. Starting in 1875 the forester here was Josef Schwarz, the husband of Smetana's oldest daughter Žofie. After losing his hearing, the composer moved here in 1876 and spent the final years of his life in this environment.
In the gamekeeper's lodge in Jabkenice he composed many of his most important works: the operas The Kiss (Hubicka), The Secret (Tajemstvi), and The Devil's Wall (Certova stena), both of his string quartets, the piano cycles Dreams (Rêves) and Czech Dances (Ceske tance), and some choral works. He also completed here the cycle of symphonic poems titled My Country (Ma vlast).
The present exposition (the fourth in this location), devoted to the life of Smetana and his family in Jabkenice and his works from this period, opened in 2003. Its first part documents Smetana's contacts with the area of Mlada Boleslav before his permanent residence in Jabkenice, and the life of his family and the family of Zofie and Josef Schwarz in the village.
The second part is devoted to Smetana's works composed during his Jabkenice period–their performance and dissemination via concerts and operatic productions and through publication both in Bohemia and abroad–and also commemorates some of his friends and collaborators who helped promote his works. The core of the exposition consists of interiors of Smetana's study and family salon, reconstructed according to descriptions from the period and including some pieces of furniture from Smetana's family as well as other authentic memorabilia.
Displayed on the memorial's ground floor is a set of sculptural depictions of Smetana by leading Czech artists. In one room we find a small gallery of artworks by the composer's grandson Zdeněk Schwarz depicting Jabkenice and the surrounding area, as well as the restored stage curtain of the Jabkenice amateur players, painted in 1877 by Smetana's wife Betty (also called 'Bettina'). Here one can listen undisturbed to works of Smetana according to one's own selection.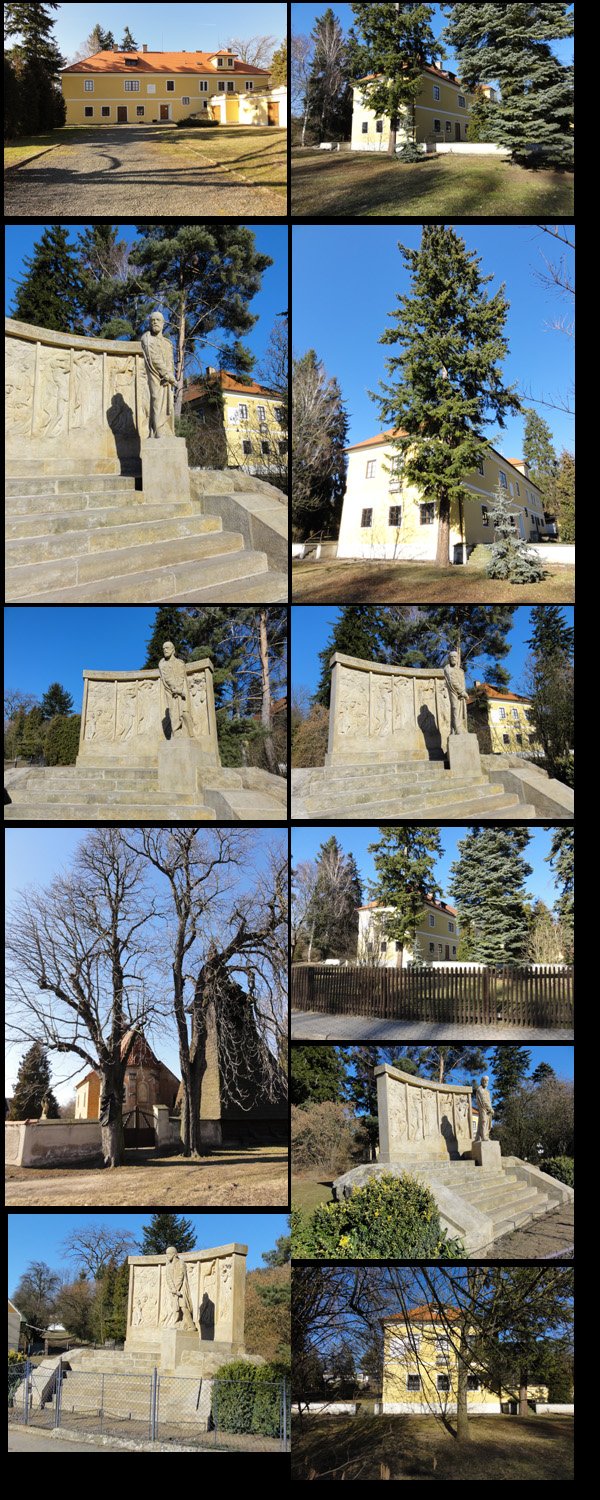 Bedrich Smetana (1824, Litomysl - 1884, Prague) was a Czech composer that is considered the father of Czech music. Internationally he is best known for his opera The Bartered Bride, for the symphonic cycle Ma vlast - "My Fatherland" which portrays the history, legends and landscape of the composer's native land, and for his First String Quartet From My Life.
Smetana was naturally gifted as a pianist, and gave his first public performance at the age of six. After his conventional schooling, he studied music under Josef Proksch in Prague. His first nationalistic music was written during the 1848 Prague uprising, in which he briefly participated. After failing to establish his career in Prague, he left for Sweden, where he set up as a teacher and choirmaster in Gothenburg, and began to write large-scale orchestral works. During this period of his life Smetana was twice married; of six daughters, three died in infancy.
In the early 1860s, a more liberal political climate in Bohemia encouraged Smetana to return permanently to Prague. He threw himself into the musical life of the city, primarily as a champion of the new genre of Czech opera. In 1866 his first two operas, The Brandenburgers in Bohemia and The Bartered Bride, were premiered at Prague's new Provisional Theatre, the latter achieving great popularity. In that same year, Smetana became the theatre's principal conductor, but the years of his conductorship were marked by controversy. Factions within the city's musical establishment considered his identification with the progressive ideas of Franz Liszt and Richard Wagner inimical to the development of a distinctively Czech opera style. This opposition interfered with his creative work, and may have hastened the health breakdown which precipitated his resignation from the theatre in 1874.
By the end of 1874, Smetana had become completely deaf but, freed from his theatre duties and the related controversies, he began a period of sustained composition that continued for almost the rest of his life.
His contributions to Czech music were increasingly recognised and honoured, but a mental collapse early in 1884 led to his incarceration in an asylum, and his subsequent death.
Smetana's reputation as the founding father of Czech music has endured in his native country, where advocates have raised his status above that of his contemporaries and successors.
Ma vlast, traditionally translated as "My Country", though more strictly meaning "homeland" is a set of six symphonic poems composed between 1874 and 1879. While it is often presented as a single work in six movements and–with the exception of Vltava–is almost always recorded that way, the six pieces were conceived as individual works. They had their own separate premieres between 1875 and 1880; the premiere of the complete set took place on 5 November 1882 in Prague.
Each poem depicts some aspect of the countryside, history, or legends of Bohemia.

NE from Prague
It is a 4 hour round trip
Trip:
1)Bedrich Smetana´s museum CNE4 - 4hour round trip

Trips combinations:
2)Bedrich Smetana´s museum CNE4 + Stara Boleslav St. Wenceslas Martyr Death Site CNE3 - 6hour round trip
3)Bedrich Smetana´s museum CNE4 + Skoda historical cars museum CNE1 - 6hour round trip
4)Bedrich Smetana´s museum CNE4 + Stara Boleslav St. Wenceslas Martyr Death Place CNE3 + Skoda historical cars museum CNE1 - 8hour round trip
5)Bedrich Smetana´s museum CNE4 + Melnik castle-wine-tasting CN1 - 8hour round trip
6)Bedrich Smetana´s museum CNE4 + Skoda historical cars museum CNE1 and Skoda car factory CNE2 - 8hour round trip
7)Bedrich Smetana´s museum CNE4 + Kutna Hora medieval town CE1 -9hour round trip
8)Bedrich Smetana´s museum CNE4 + Prerov folk architecture mueums CE5 - 8hour round trip
9)Bedrich Smetana´s museum CNE4 + Ajeto glassworks CN8 - 8hour round trip
10)Bedrich Smetana´s museum CNE4 + Novy Bor crystal factories CN3 - 8hour round trip
11)Bedrich Smetana´s museum CNE4 + Sychrov castle NN4 - 8hour round trip
12)Bedrich Smetana´s museum CNE4 + Kost castle NN5 - 8hour round trip

Our popular tours are outlined on our web sites:
www.private-tours.net
www.private-tours.cz
jewish.tourstoprague.com

Please send an e-mail to order the tour!